WIRELESS DRIVE-
THRU SYSTEMS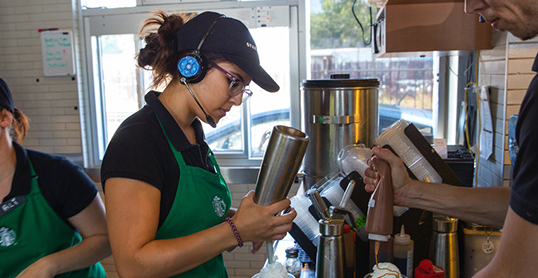 DON'T LET PRIMITIVE EQUIPMENT CONCEAL YOUR TEAMS TRUE POTENTIAL!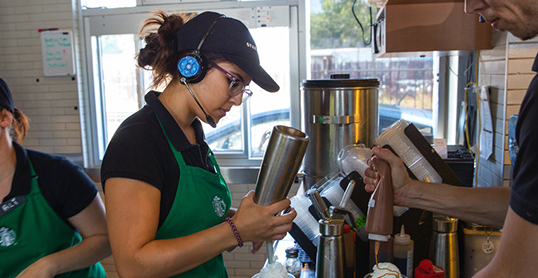 Let us help you serve your customers.
Defective and outdated drive-thru technology is the root cause of shared frustrations between your team and your customers. Low quality audio can lead to miscommunication and higher customer complaints. Defective equipment can be linked to higher turnover rates. Don't worry, we're here to help!
We are committed to providing you with a complete solution of drive-thru communications. With up to 70% of your business conducted in the drive-thru, we understand the extreme importance of drive-thru efficiencies. This will increase your revenue and satisfy your drive-thru customers by providing improved communications, faster and more accurate orders, and better customer service. We are here to offer our expertise on how our different wireless drive-thru systems can bring value to your company – helping you save both time and money.
Don't forget to take advantage of our complimentary first time customer on-site visits to pinpoint the root cause of your problems and offer turnkey solutions to solve the problems quickly and effectively. We also offer preventative maintenance and monthly repair programs for all manufacturers.
3M – G5 SYSTEM
Say "Hello" to the 3M™ Drive-Thru Headset System G5
Get ready to experience a whole new level of drive-thru communications. Inspired by you, the G5 headset features everything you asked for – enhanced comfort, lighter weight, easier to use, increased durability and the only headset that offers on-site serviceability that allows you to repair it in seconds, in your store.  The G5 Headset system provides features new to the industry:
On-site Serviceability
Take service into your own hands with the unique modular design that allows you to quickly detach the control pod from the carrier and replace with a new carrier in seconds – right in the store! Say goodbye to downtime and hello to easy!
Get Charged up!
The first headset with Smart battery technology. The fuel gauge indicator provides a verbal and visual signal when it's time to re-charge the battery. A visual end-of-life indicator signals when the battery's useful life has ended and should be recycled.
Dock it and you are done!
The integrated G5 headset storage and battery charging station lets you charge up to 5 headsets while they're being stored. Removing the battery is optional, eliminating steps to charge while improving productivity and inventory control. Can be mounted on a wall, shelf or table for easy access.
HME – EOS | HD™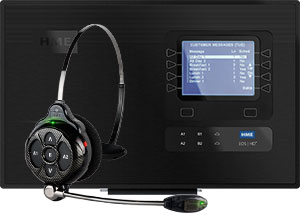 HME is proud to present EOS | HD, a drive-thru headset system with the industry's newest advancement in sound quality — all-new HD Audio. HD Audio uses wideband technology and advanced noise reduction to create the clearest, most intelligible drive-thru headset on the market. By increasing intelligibility, EOS | HD provides a more understandable drive-thru conversation for improved order accuracy and speed of service.
Groundbreaking Wideband Technology: Innovative wideband technology expands the audio range of EOS | HD to include higher and lower voice frequencies than standard digital drive-thru headsets. The result is a remarkable 20% increase in intelligibility. With clearer, more intelligible speech comes faster speed of service, improved order accuracy, and greater profitability for your drive-thru.
Dramatic Inbound Noise Reduction: EOS | HD's innovate technology dramatically reduces noise from the drive-thru to help deliver greater order accuracy than ever before.
Revolutionary New Outbound Noise Reduction: Removing noise from inside the kitchen, EOS | HD provides clearer communication to the customer resulting in a better customer experience in your drive-thru.